Hardwood Flooring Guide
Where luxury meets everyday life, organic hardwood flooring is considered by many to be the finest flooring available. With its unmistakable visuals and textures, this naturally-sourced sensation is made by Mother Nature, but perfected by modern innovation. Your new hardwood flooring, if properly maintained, could still be around for your great-grandchildren to play on.
With its ongoing value, there are truly many things we love about natural hardwood. Hardwood flooring created dimension since it provides the appearance of added space. However, it's important to realize that since hardwood flooring can sometimes be a significant investment, it's certainly wise to do your just research first. If properly installed and situated, we promise you'll enjoy your lovely flooring for decades to come.
Expert Advice - Hardwood Styles

Join our very own Jim Aaron, VP of Merchandising for Carpet One Floor & Home, for some information on all the different looks and style available in hardwood floors.
Solid Hardwood vs. Engineered Hardwood
Once limited to solid hardwood boards, today's hardwood flooring choices present some smart and stylish solutions for common flooring dilemmas, making hardwood accessible where it previously was not. That's because in addition to the tried and true solid hardwood flooring, consumers now have the option of engineered hardwood. While the two have a similar look and feel, there's much more than meets the eye.
Solid hardwood simply means that each plank is made from a single, solid piece of wood. The original hardwood flooring, solid wood has terrific staying power if installed properly. It can be refinished indefinitely. Solid hardwood should only be installed at grade or above, and it shouldn't be installed in moisture-prone space.
Engineered hardwood, though also made entirely of wood, is built in layers. It is a denser and more durable flooring, overall, than its solid counterpart. Engineered hardwood can be refinished a handful of times over its lifetime. It can be used in finished basements and other below-grade spaces. It also tends to be less expensive.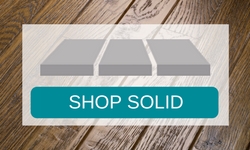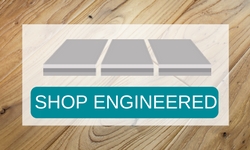 Hardwood Species
For those who enjoy having many different styles and options, hardwood flooring is a great place to begin. Indeed, there are many kinds of trees in the forest, and as such, there are many kinds of hardwood used as flooring. There are more traditional oaks, maples, and pines, as well as more exotic mahoganies, corks, and teaks. The choice is yours, and each wood species boasts its own unique attributes: making a statement that's both functional and fashionable.
Our Hardwood Flooring Selection
At Boss Carpet One Floor & Home we enjoy helping our clients find hardwood flooring they can feel great about. As proud members of Carpet One Floor & Home, the world's largest flooring collaborative, we have the buying power of over a thousand stores. We carry hundreds and hundreds of varieties, both engineered and solid hardwood, in our Dixon and Freeport, IL showrooms. We can't wait to show you all that hardwood flooring has to offer.
1.Rustic River emphasizes wood's

natural character.

2.Invincible Hardwood offers

premium durability.

3.Voyager offers bamboo and

cork flooring.
Shop Hardwood Flooring

Distressed and polished, solid and engineered, rustic and contemporary: we have your hardwood flooring right here.

Hardwood Flooring Inspiration

Are you at loss for flooring ideas? Our expert designers have compiled all the latest hardwood flooring looks, from traditional to ultra-trendy, and you'll find them all right here.

Solid vs. Engineered Hardwood

Buying a new hardwood floor is made easy when you stop by our showroom! Our flooring experts can help you decide between solid or engineered hardwood planks. We are here to help you find the best type of hardwood flooring for your home.